Regular price
Sale price
$69.00 USD
Unit price
per
Sale
Sold out
Introducing "The Weensie"
(a onesie for weenies, duh!)
It's the ultimate spandex all-season bodysuit for your doxie where function meets fashion.
Keep your furry friend warm and stylish with this onesie bodysuit, specially designed with the unique dachshund body shape in mind for the perfect fit. Made by hand in Toronto, Canada, The Weensie takes into account the short legs and long bodies of dachshunds, ensuring that your pet is comfortable and cozy all year round.
No more snowballs on their legs thanks to our built-in snowguard and tight fitting sleeves. And the best part? The convenient zipper design makes it easy to zip 'em up and keep them cozy all year round. Your wiener dog will be the talk of the dog park in their new Weensie.
The Weensie provides great shedding control, allergy protection, tick and flea prevention, UV protection, hot spot healing, surgical healing, sand and mud protection, and coat damage prevention. Order now for the ultimate dachshund fashion and protection experience!
Dimensions

LENGTH / NECK / CHEST

XS = 37cm / 23-27cm / 34cm

S = 38cm / 24-28cm / 36cm

M = 40cm / 25-29cm / 38cm

L = 43m / 29-35cm / 42cm

XL = 46cm / 31-37cm / 46cm

See our size chart below.
Made for dachshunds

This weensie bodysuit was designed entirely with the dachshund body in mind.

All four sleeves are as short as you'd expect, and the back sleeves are tapered to account for their thinner back legs.

The design uniquely features a zipper along the back to make getting in, and out, of the weensie an absolute breeze!
Sustainable materials & production

The Weenie is made by hand in Toronto, Canada using recycled materials sustainable manufacturing processes, so it's not only good for your dachshund, but also good for the planet.
Shipping & Returns

Products usually ships out in 2-3 business days.

For exchanges & returns, email woof@longboi.co
Share
View full details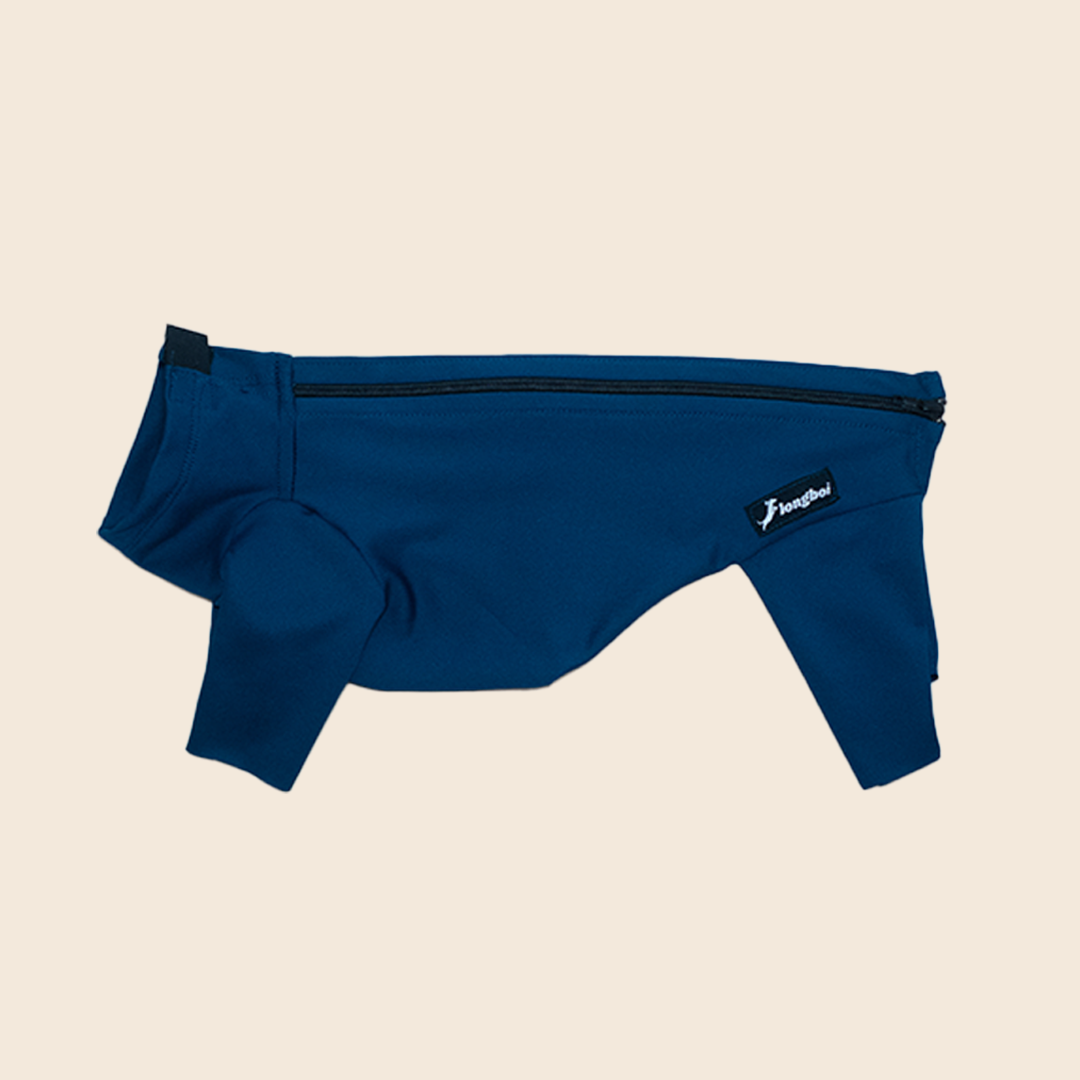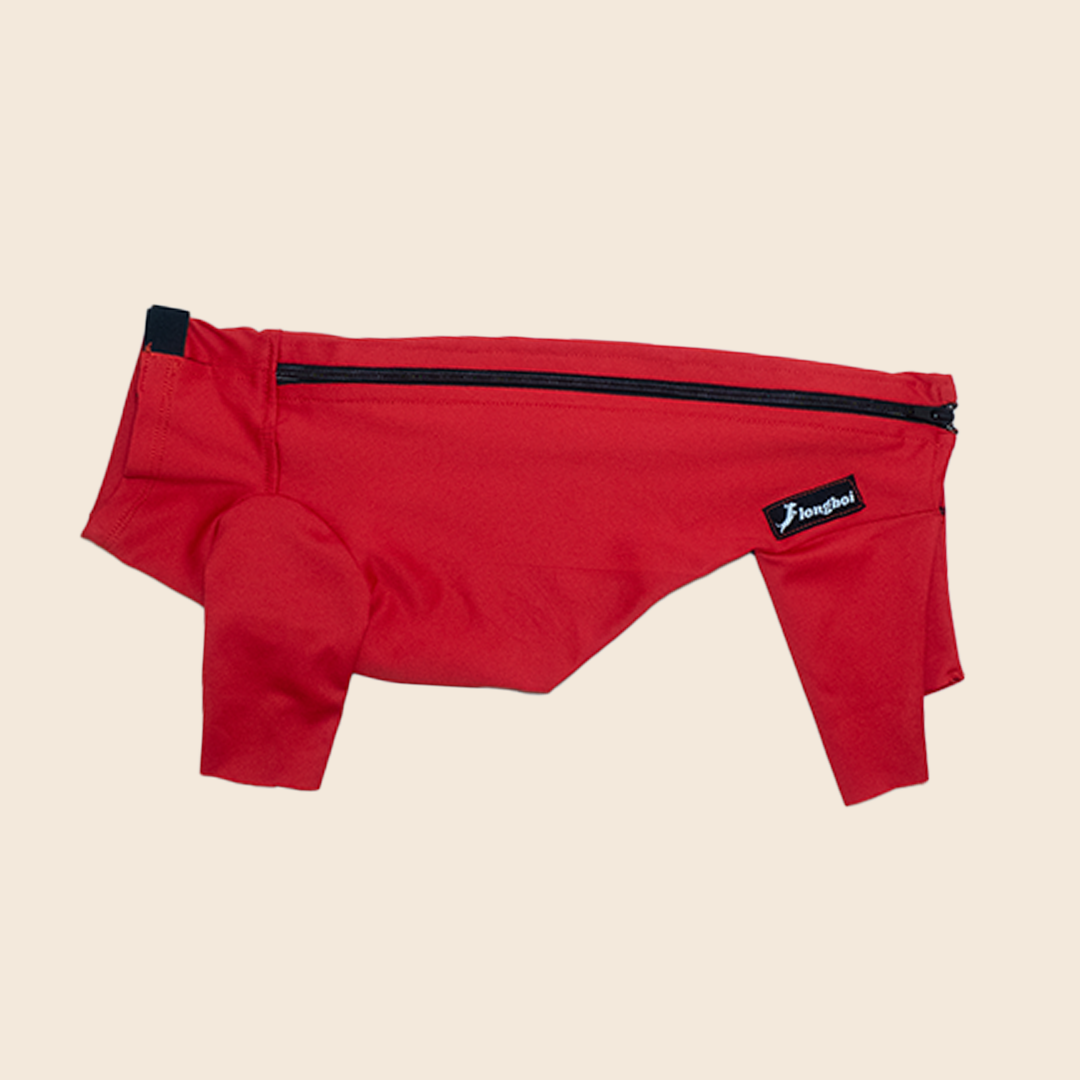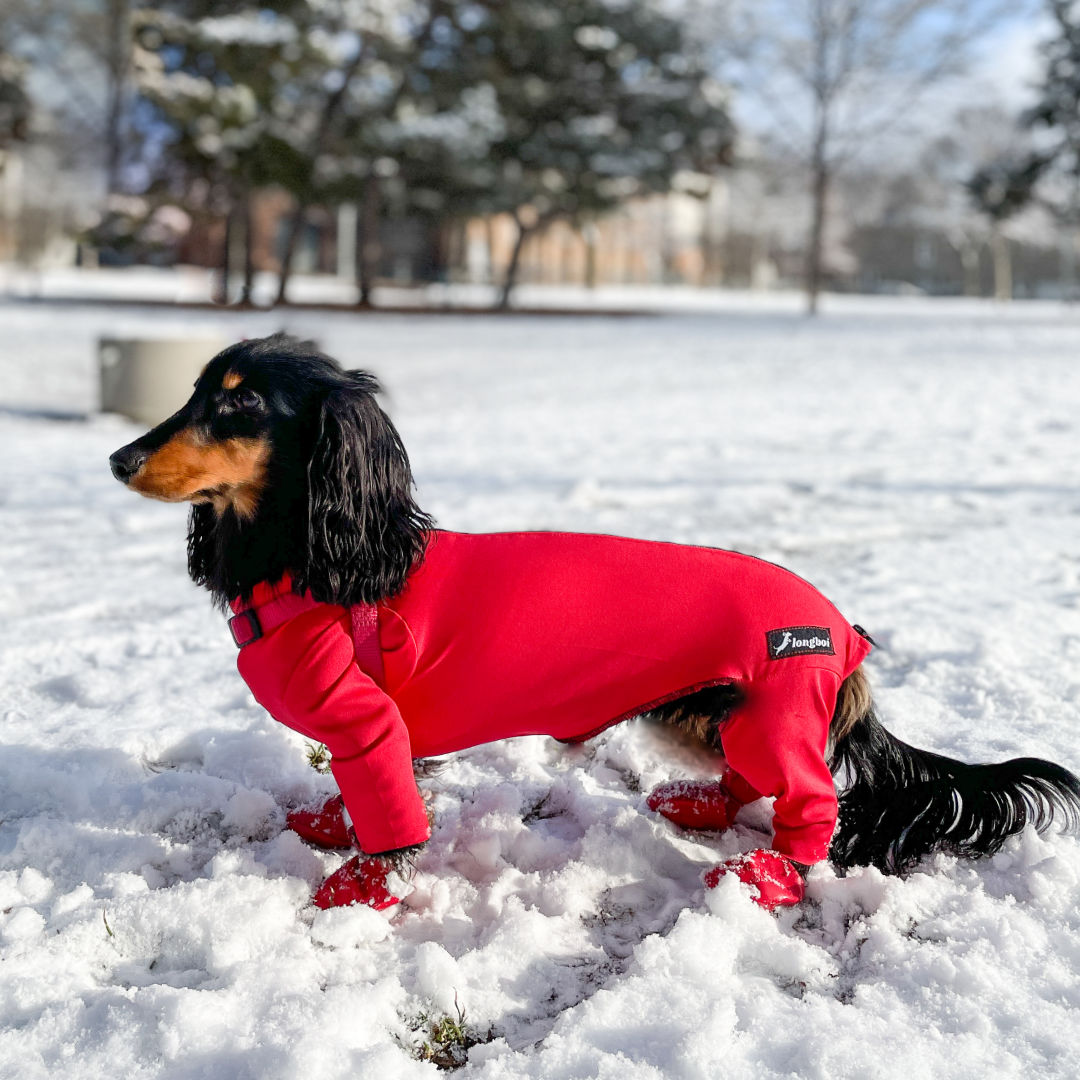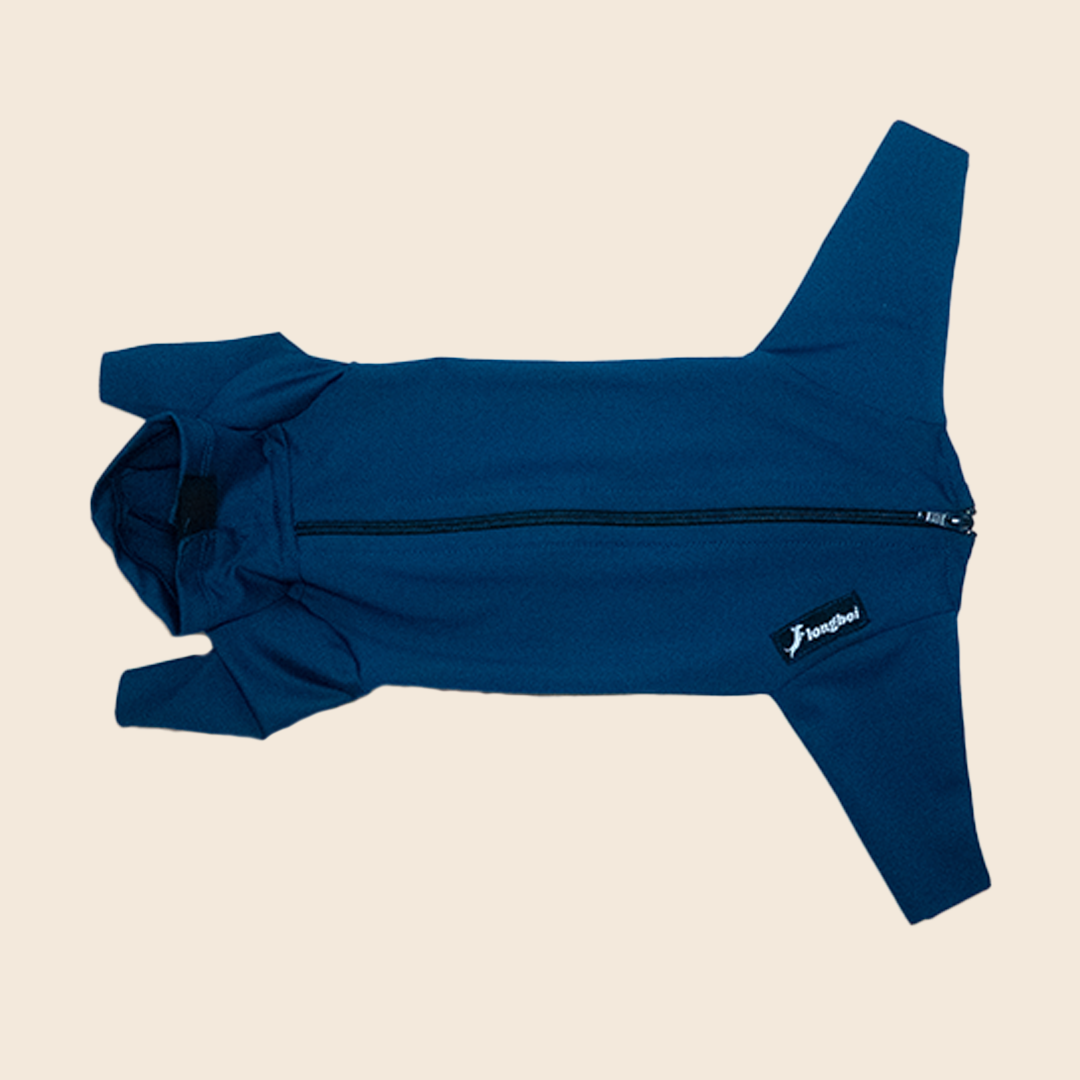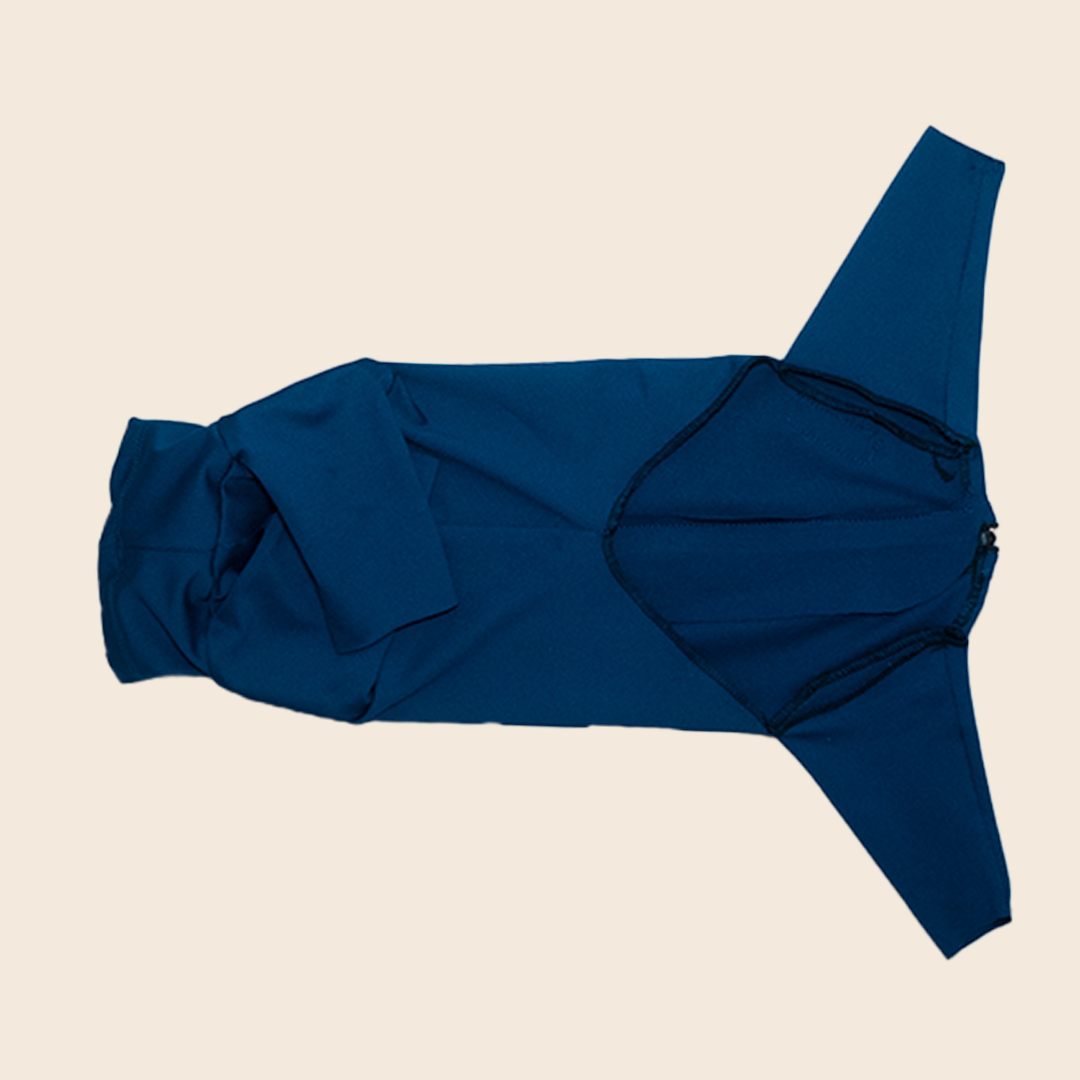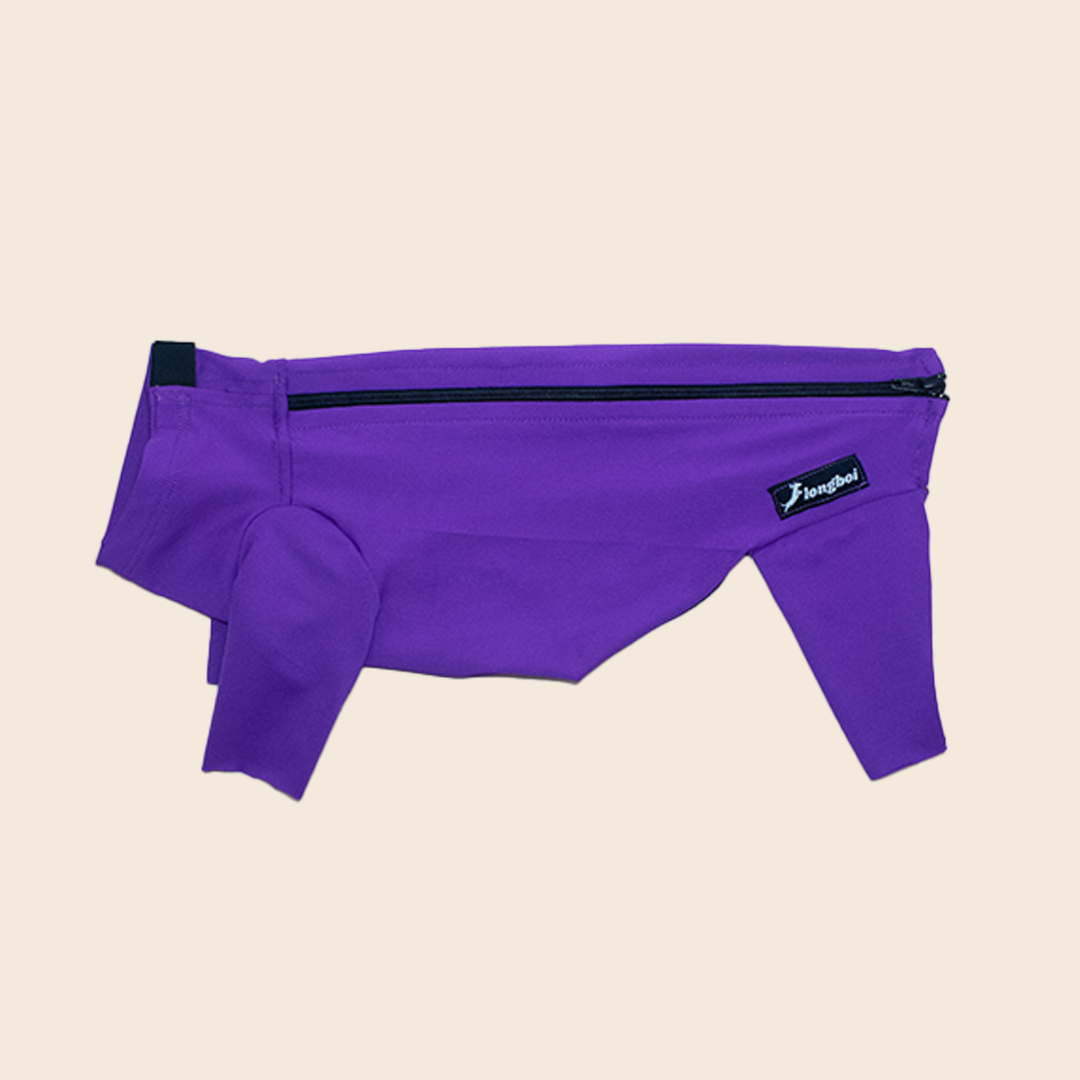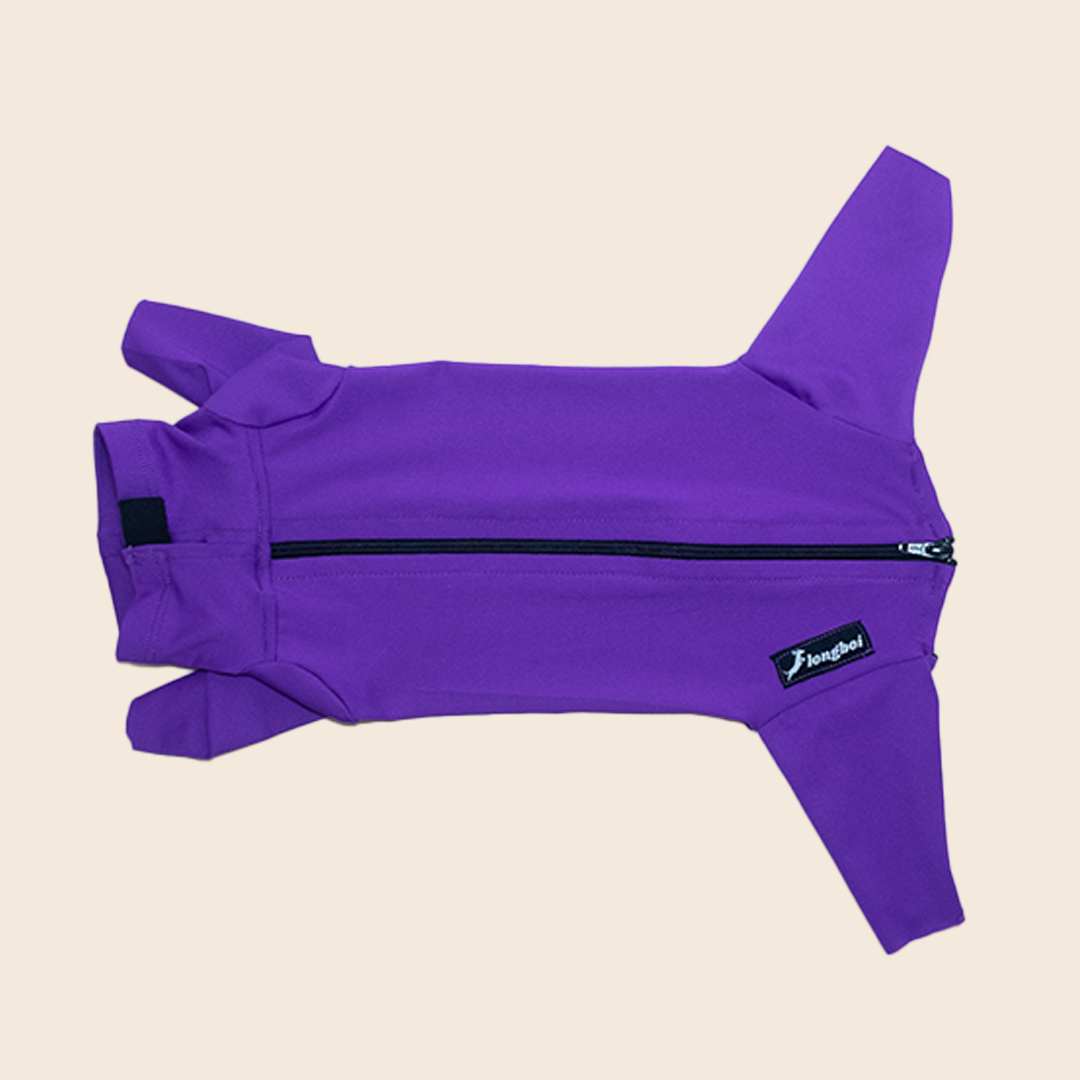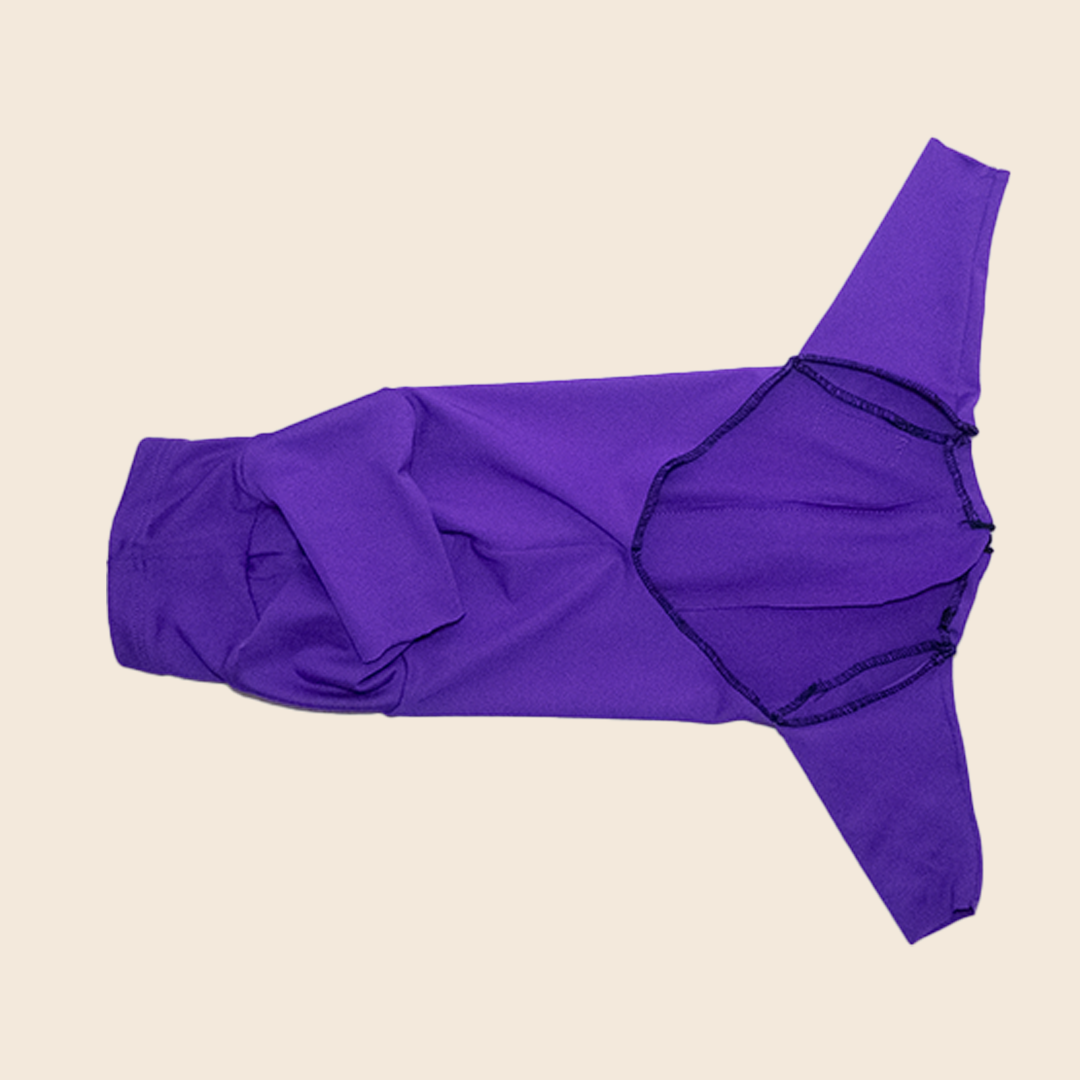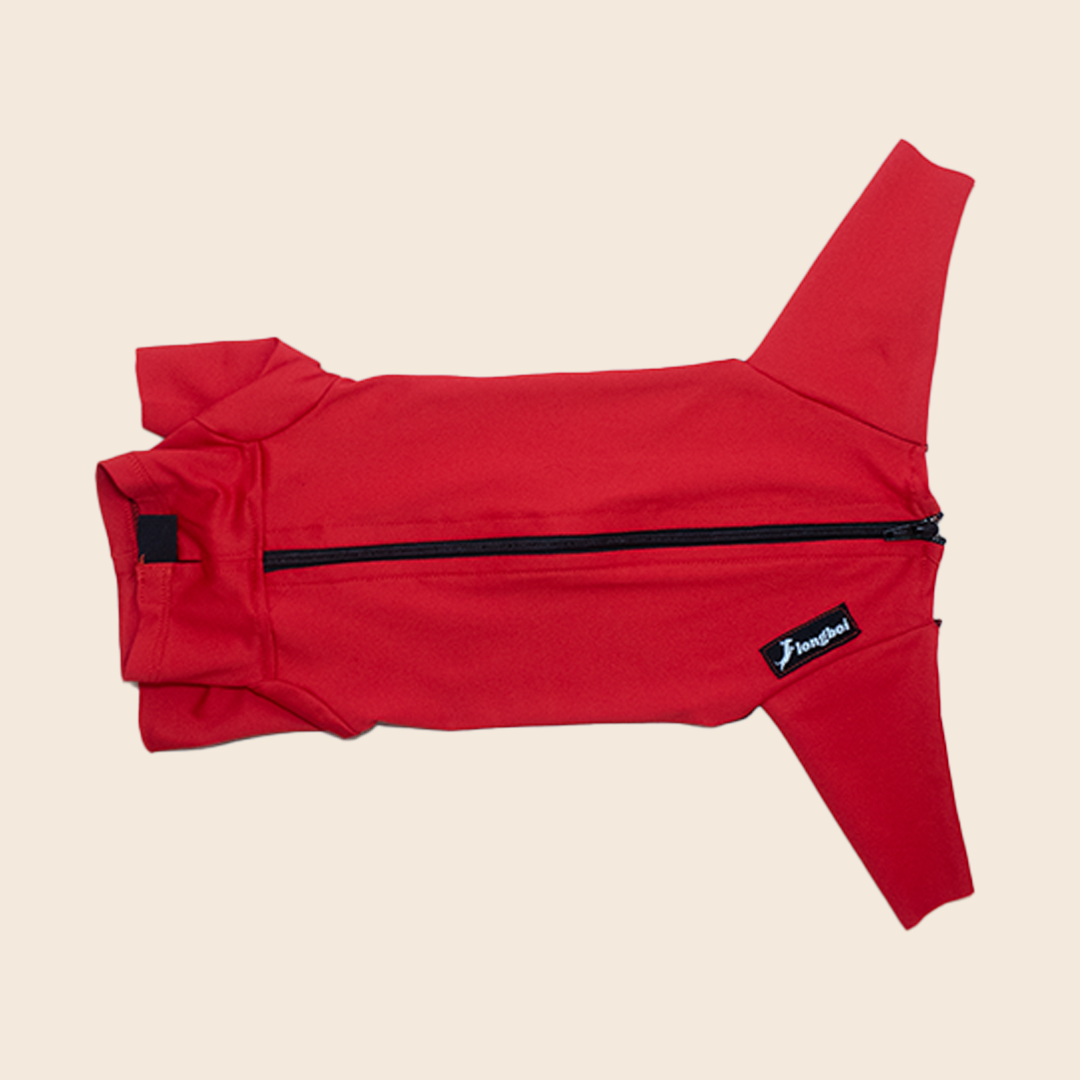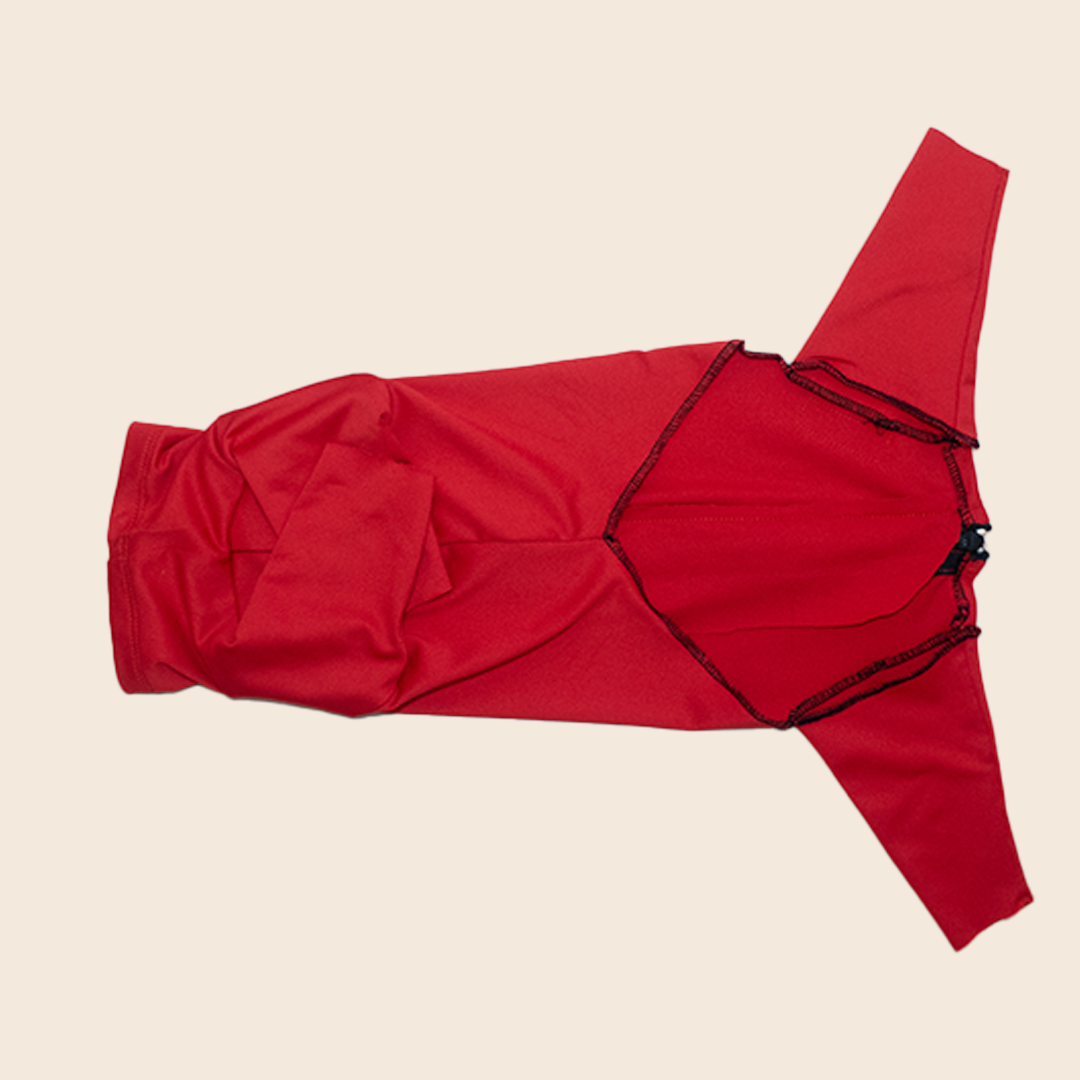 Fast Shipping Worldwide 🌎🚀

Products usually ship out in 2-3 days.
Outdoor hikes

keep burrs, stickers & debris off your dog to prevent coat damage + keep them clean.

Playing in the snow

No more snowballs on their legs thanks to tight fitting, water resistant sleeves.

Sandy beach days

Great for sand and mud protection & it's UV protection rated UPF 50+
Easy on / off
The Weensie has a unique top zipper that makes putting the snug-fitting bodysuit on your doxie super easy.
(Almost) full-body coverage
The Weensie Bodysuit covers your doxie everywhere you want it to, and not where you dont 😉

We left an open area on the bottom so your dog can do their business without having to get any zippers involved.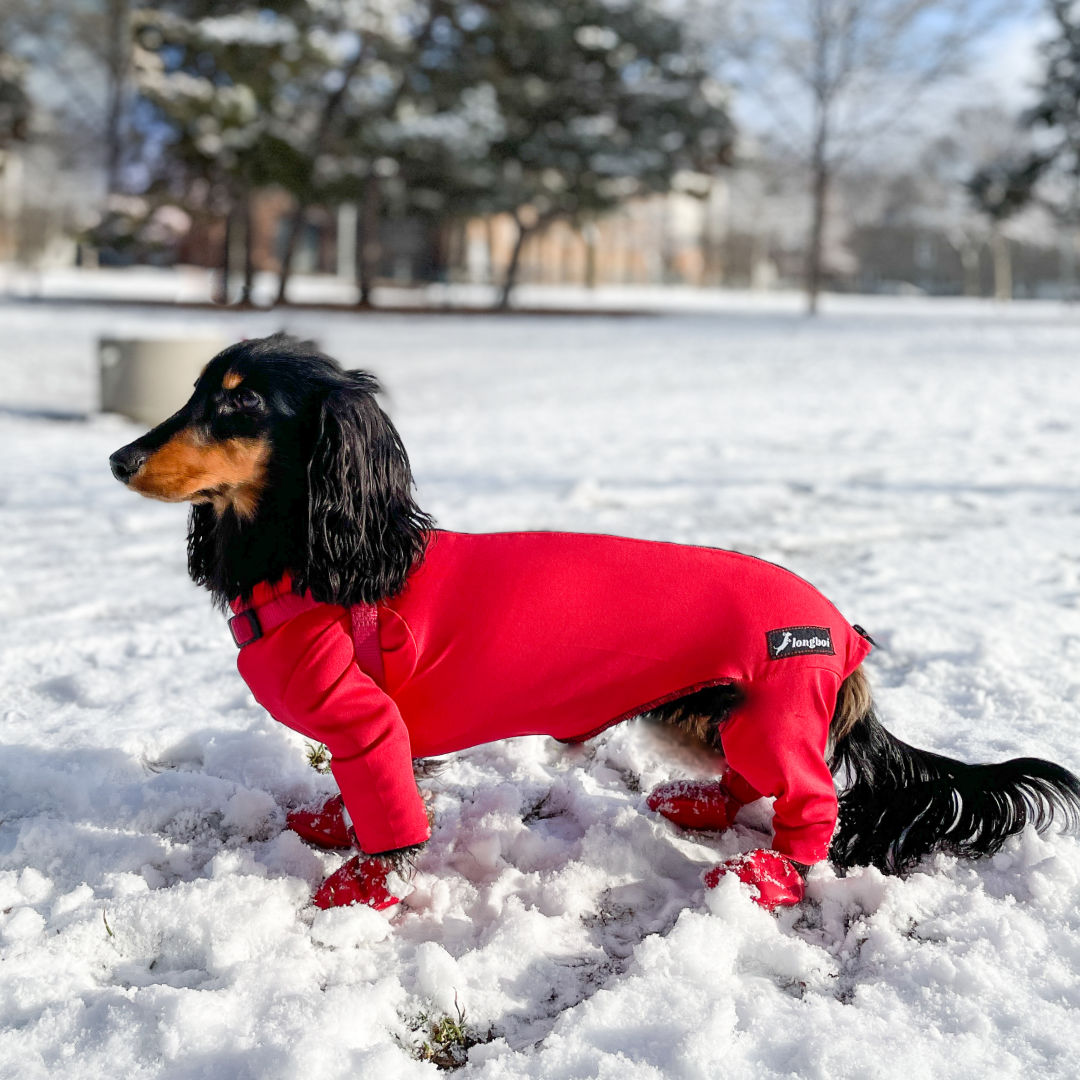 Made with 🤎 in Canada 🇨🇦
The Weensie is made sustainably by hand in Toronto, Canada. It was designed entirely with the dachshund body in mind.
Here's what their hoomans say
Amazing Product!
All Longboi products are undoubtedly the best clothing you could buy for your beloved wiener companion(s). All Products having such unique and clever design that will perfectly fit any size and shape wiener.
Wonderful weensie winter wonderland!
Thankyouuuuuuuuu this is the perfect bottom layer for our mini dachshund when we live in snowy Canada. This will help with all the snowballs she brings back in after charging through fresh snow. We're so happy we found this product we can later with your other costs and fleeces ❤️ perfect for doxies, 💯
We recommend the Weensie for:
Snowball Prevention

The Weensie is a game-changer for pups who love playing in the snow but hate snowballs in their fur.

Burr Prevention

Whether you walk in your favorite trail or just your backyard, the Weensie Bodysuit helps keep burrs, stickers & debris off your dog to prevent coat damage + keep them clean.

Mud Prevention

After your favorite hike or walk in the park, come home to a cleaner pup. The Weensie has been a lifesaver for doxie parents who want to keep pups cleaner in between grooming.

Anxiety Relief

From loud fireworks to thunder, sensitive pups can have anxiety just like humans. The weensie's snug fit can bring the same comfort as a hug to make them feel safe + secure.

UV Protection

Rated UPF 50+, our Weensie Bodysuit blocks out 98% of harmful, cancer-causing UV rays to help protect your pup's sensitive/fair skin.

Allergy Relief

Allergy season is ruff for many pups. The Weensie creates a barrier between allergens to reduce contact with your dog's skin and help alleviate allergy symptoms.

Shedding Control

Keeping fur off your clothes, furniture and floor can feel like a never-ending battle. The Weensie can help significantly reduce how much fur ends up in your home, car, etc.

Sand Prevention

The only things that should come back from a day at the beach or lake are fun memories, not sand or dirt in your car or home.

Surgical Healing

Not only can the Weensie Bodysuit help with healing after surgery (reduces irritation to stitches, wounds, etc), it can often replace the cone of shame.